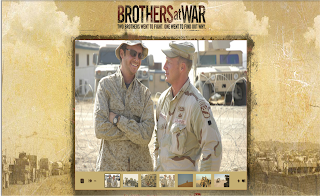 (PHOTO:
Brothers At War
)
I mentioned this movie effort earlier in one of my post. It looks like the movie is now ready for the big screen.
Here's a synopsis:
BROTHERS AT WAR
is an intimate portrait of an American family during a turbulent time. Jake Rademacher sets out to understand the experience, sacrifice, and motivation of his two brothers serving in Iraq. The film follows Jake's exploits as he risks everything—including his life—to tell his brothers' story. Often humorous, but sometimes downright lethal, BROTHERS AT WAR is a remarkable journey where Jake embeds with four combat units in Iraq.
Unprecedented access to U.S. and Iraqi combat units take him behind the camouflage curtain with secret reconnaissance troops on the Syrian border, into sniper "Hide Sites" in the Sunni Triangle, through raging machine gun battles with the Iraqi Army. Ultimately, the film follows his brothers home where separations and life-threatening work ripple through their parents, siblings, wives and children. BROTHERS AT WAR provides a rare look at the bonds and service of our soldiers on the frontlines and the profound effects their service has on the loved ones they leave behind.
Not much out there to pay $10.00 to watch and this one looks like one I won't miss.
Not so much from an entertainment stand point, more of an appreciation, and respect for all the troops who are laying it on the line for us back home.
Make one kind of ashamed of all our griping cry-babing ways.
Go see the movie.
BROTHERS AT WAR (VIEW THE MOVIE CLIP)