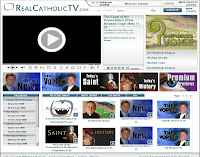 Catholic media I think is the means by which we, as Catholics, will make inroad to spreading the Gospel as we are called to do by Christ.


Matthew 28:18-20
18And Jesus came up and spoke to them, saying, "All authority has been given to Me in heaven and on earth.
19"Go therefore and make disciples of all the nations, baptizing them in the name of the Father and the Son and the Holy Spirit,
20teaching them to observe all that I commanded you; and lo, I am with you always, even to the end of the age."

There are so many good (and bad) resourses out there from Catholic periodicals (mags) and books, and some great weblogs.
Podcast like
SQPN
with Fr. Roderick's podcast family was the next step up with video and audio content.
Now the Catholic T.V. can be added to this effort of making disciples of all. It started earlier this year and is still adding content, but it's coming along and I think will mature into a major resource.
JPII knew the need to use the media and B16 is equally aware of the media potential.
Catholic Culture has the skinny on it
HERE
.